Product Description
Ring Engineering / RailPro(TM) Starter Kit -- Includes 1 Each HC-2 & 1 PWR-56 (Scale=ALL) RailPro Starter Kit634-RPK1
RPK-1 RailPro Starter Kit with Wireless Color Touchscreen Handheld Controller and Power Supply
RailPro products by Ring Engineering are professional grade, powerful, and very easy to use model railroad control products that can be enjoyed by beginners and experts alike. The HC-2 is a wireless controller with a color touch screen that can be used to operate your model railroad layout. The HC-2 can control the speed, direction, lights, and sounds of locomotives and other accessories by simply touching the screen! All you need in addition to this starter kit is at least one locomotive module. The included power supply has enough power to run 15 typical modern HO Scale locomotives. You can add additional power supplies, handheld controllers, locomotive modules, and accessory modules, to expand this starter set to control practically any size layout!
Please see HC-2 and PWR-56 for more details on each product.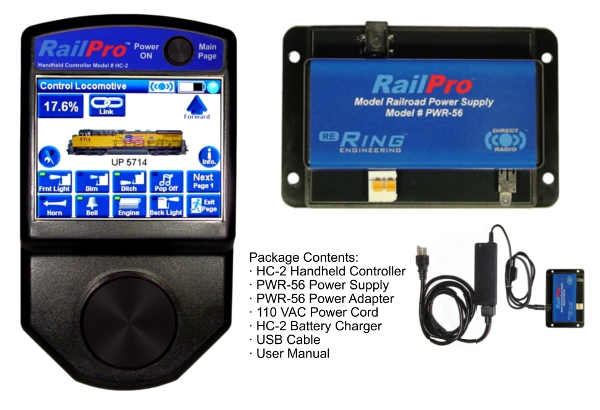 Other Details
Y
Product Videos
Product Reviews
Awesome product. Easy to set up and use. Support from Ring is wonderful and willing to help and provide in depth information on questions. This is not your dad's DCC.

Awesome Command Control System

super fast delivery from Yankeedabbler. great price, easy to use and set up and go. If your thinking of going DCC go with the best Ring Engineering.